WELCOME TO STRATEGY BOXED
---
A new concept in helping businesses help themselves.
WELCOME TO STRATEGY BOXED
---
A new concept in helping businesses help themselves.
Are you working very hard to manage and grow your business?
Do you sometimes find it difficult to look to the future as well as the present?
Have you got a robust plan to ensure that your business gets where you want it to?
Are you sure that everyone who works for you is aligned to your ideas and thinking?
Do you have confidence that your business can always beat your competitors?
Are you interested in working with someone who can help you with all of these things and more?
If you have answered yes to any of these questions, we will be very excited to talk with you. Our approach is about working in partnership with you to achieve an agreed goal, based around a more profitable and focussed business. We help you develop your own strategy and implementation plan, and can assist you all along the way in supporting you in your goals. We only work on published fixed fees and there are no hidden extras, and that is why we believe that we are different to almost everyone else in the marketplace.
OUR FIRST MEETING IS ABSOLUTELY FREE
---
As a rule people only do business with those we both like and respect, and therefore it is vital that you feel totally comfortable with us, and that you are confident that we can provide the support that you need. If we are both happy that we make the right connection we work to an agreed set of interventions that are great value for money. We are very experienced having worked with a number of varying organisations large and small, and therefore understand that finance is limited for everyone, hence we offer a fixed price package for everything we do. You will be surprised at how inexpensive our strategy services are, and how a small investment now can yield a very significant return in the future.
Call or email us now to arrange a totally obligation free meeting
WE ALSO HELP BUSINESSES WITH
---
Business Plan Preparation
Business Strategy
Bank finance support
Decision analysis
Mentoring and coaching
Partnership working
Marketing, PR, Design, Web and other support services through our partner organisation Five
LATEST FROM THE BLOG
We are heading towards the end of August and the holiday season is now in the the twilight period. Recent years have seen July and August as a time of fallow where it appears that very little gets done other than the day to day elements of running a business. Holidays... read more
CONTACT US
---
We are here to help, please contact us.
You can get in touch either by the 'Contact us' below or please call us on 07778804052.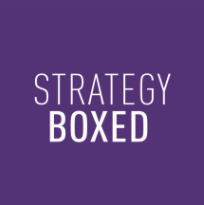 ADDRESS
---
Strategy Boxed
Heron's Dyke
South Road
Lympsham
Somerset
BS24 0DY
ADDRESS
---
Strategy Boxed
Heron's Dyke
South Road
Lympsham
Somerset
BS24 0DY