However beautiful the strategy, you should occasionally look at the results
A strategy identifies what you are going to do, and also what you are not. It describes where you are in the market now and the path and journey you need
to take. It outlines your strengths and weaknesses and the opportunities and threats against a backdrop of the market. Crucially it provides a clear implementation plan with measurements so that you can confirm that you are
on the right path, and allow you to change direction through regular reviews.
- Kenichi Ohmae -
"What business strategy is all about; what distinguishes it from all other kinds of business planning-is, in a word, competitive advantage. Without competitors there would be no need for strategy, for the sole purpose of strategic planning is to enable the company to gain, as efficiently as possible, a sustainable edge over its competitors."
- Michael Porter -
"The essence of strategy is choosing what not to do."
- German proverb -
"What's the use of running if you are not on the right road."
You may say that this is all very well, however it takes time, is a discipline, and most importantly is perceived to be expensive. We beg to differ.
Our process is deceptively simple, we do all the hard work for you, manage the process and need very little of your time. We are very experienced having worked with a number of varying organisations large and small, and therefore understand that finance is limited for everyone, hence we offer a fixed price package for everything we do. You will be surprised at how inexpensive our services are, and how a small investment now can yield a very significant return in the future.
CONTACT US
---
We are here to help, please contact us.
You can get in touch either by the 'Contact us' below or please call us on 07778804052.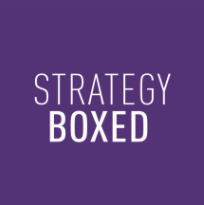 ADDRESS
---
Strategy Boxed
Heron's Dyke
South Road
Lympsham
Somerset
BS24 0DY
ADDRESS
---
Strategy Boxed
Heron's Dyke
South Road
Lympsham
Somerset
BS24 0DY